Music4Site.com
A Featured Artist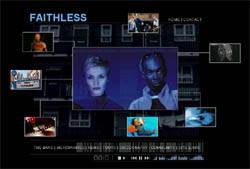 ---
FAITHLESS
In 1995 Rollo Armstrong, Sister Bliss and Maxi Jazz. formed the band Faithless.
Sister Bliss and Maxi Jazz are now the visibility of the band. Both fiercely intelligent,
Maxi Jazz's Buddhist worldview complements Bliss's challenging opinions and
encyclopaedic house music knowledge. She was the most vocal about the state
of the band at the end of a gruelling eighteen month world tour to support the release
of Reverence which eventually sold 1.5 million CDs and 4 Million singles.
Outrospective was written and recorded between Summer 2000 and Spring 2001.
It elevates Faithless' often-celebrated eclecticism to new heights, and covers the
broadest sweep of emotions and atmospheres. From melancholy to mad love,
from glorious empowerment to bittersweet tales of love gone wrong,
Outrospective throbs with a very real vitality.
After initially listening to certain tracks off "Outrospective" it becomes clear
that, sometimes, stadium melancholy is what they do best. The sweeping melodrama
of 'One Step Too Far' (vocals by Dido), the hazy lament of 'Crazy English Summer',
which featured vocals by Faithless debutante Zoe Dickson, and Maxi's rainy
Autumn rap on 'Not Enuff Love' are the gemms of this collection.
The Faithless worldwide fan base continues to expand.
Their Official Web Site offers up Band News,
Faithless Fan Site Links, Community Forum,
& MORE.
! CLICK HERE To Visit Random Past Featured Artists !
Get The Best Faithless CDs Here!





The Following "Faithless" Select Cuts
Hem Of His Garment
Flowerstand Man
One Step Too Far
Liontamer
Don't Leave
Are On Our PlayList Now - Click To Listen!
Would You Like To Be Featured ?
Just Drop Us An EMAIL